Creativity and service makes us unique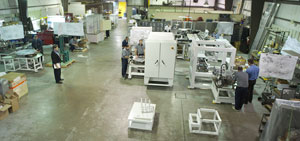 There are plenty of custom machine builders and system integrators out there, but what makes us unique is the rare combination of creativity, willingness to serve, and staffing.
We are creative in our proposal concepts.  We will of course address your suggested approach, but we will also take the time to explore, with you, other solutions that may be more optimal.
Creativity is also evident in our machine designs. We seek out the balance between precision and robustness.  We look for ways to reduce components, costs, and increase ease of maintenance.
Excellent service is more than delivery, it's part of the process
Service means more than just being available to support equipment after installation.  That level of service is something we excel at, which is why we have so many repeat customers. Service also means the professional council we provide during proposal development, design, progress reviews, schedule adjustments, scope changes, and installation strategy. Our reputation is based on being the company that is easy to work with.
"FAI's support for us, has been in a word – Outstanding."

– Manufacturing Engineer, Electronics Manufacturer
In-sourcing keeps quality consistently on track
Staffing is a major factor in our success. Our customers tell us that we are unique and valued because of the skills of our people and the full range of services we offer. At Flexible Automation, we believe that having full control over a project is the only way to exceed customers' expectations. All aspects of your project can be produced in-house.
We never outsource mechanical design, controls design, programming, or assembly.  We machine 95% of all custom components in-house, sourcing the balance to experts with specialized equipment in the immediate area.  We will never risk our reputation on the indifference of a sub-contractor.  With us, you can trust that your project will be completed on schedule.